Service Department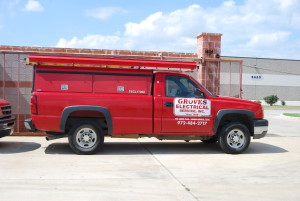 We have a fleet of fully stocked service trucks with Licensed Journeyman electricians ready to serve your needs. This truly makes Groves Electrical Service Inc. your full service Electrical Company. We are equipped to handle anything from adding one receptacle or lighting repairs, to wiring entire multi level industrial plants and everything in-between. 
Request a Free Quote, Schedule a Service Call, or Get More Information of Lightning Maintenance
Lighting Maintenance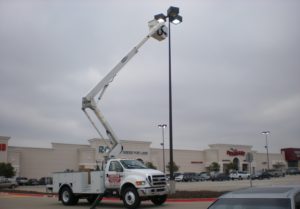 Everyone with a large parking lot knows the pain of letting too many lights go out and getting that large bill 3-4 times a year. With a Monthly Lighting Maintenance Contract you always have your lights burning and never pay more than $150.00 per month for labor or equipment, including bucket trucks and lifts. We will make monthly checks of your property for outages and, if any are found, we will schedule you into our calendar to get them repaired. You never have to start the process, we do it all automatically. Give us a call and see how we can reduce the stress of maintaining the lights on your property.
Crane for Hire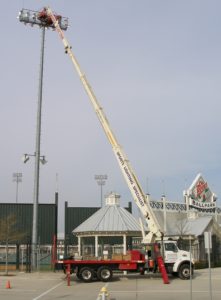 We have a 30 Ton Crane 150' of boom with a boom tip basket. With the basket installed it turns this crane into a 150' bucket truck. Hire the crane and get our experienced electrician with it. With this equipment at our disposal, there is no light too high for us to maintain and repair. Whether you have a parking lot, sports field, or street light, we are the only electrical company you need on your speed dial to provide service.
Request a Free Quote, Schedule a Service Call, or Get More Information of Lightning Maintenance